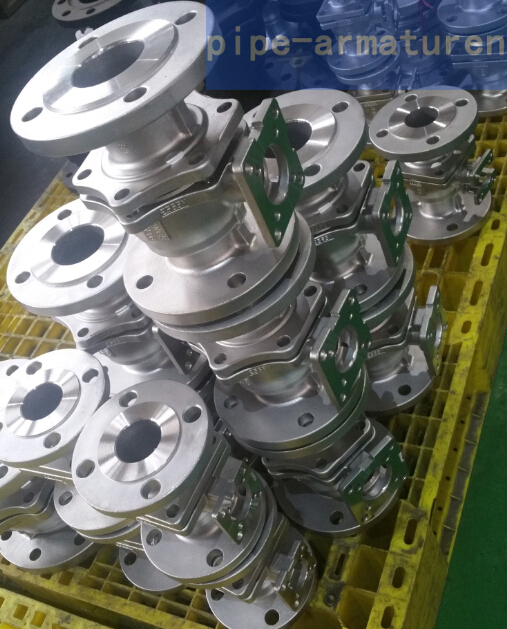 Description
Floating ball valve ;2pcs of floating ball valve.
Features
1. Two pieces design for casting body; two pieces or three pieces for forged body
2. Fire-safe, antistatic and blow-out proof stem functions
3. Low torque value,ball valve with top flange.ISO5211
4. Star-shape or round shape of middle flange available
5. Locking device and handle indicating open/close
6. ISO 5211 mounting design upon request
7. Stem/bonnet extension for cryogenic service
8.Full port or Reduced bore(FP or RP)
9.ISO 5211 direct mounting pad for easy installation.
Operation type
Lever,Handle,Gear, Electric actuator,Pneumatic actuator,Bare stem.
Standard
Design and Manufacture: API 608, API 6D, BS5351 or ASME B16.34
Inspection and Test: API 598/ API 6D
End flange dimension: ASME B16.5
Butt weld ends dimension: ASME B16.25(BW)
Face to face,end to end: ASME B16.10/API 6D
Pressure-temperature ratings: ASME B16.34
Fire-safe: API 607, API 6Fa
NACE: NACE 0175
Material
ASTM A216 WCB WCC;ASTM A217 WC1 WC6 WC9;ASTM A351 CF8,A351 CF8M,
A351 CF3,A351 CF3M,A351 CN7M;.ASTM A352 LC1 LCB LCC LC3 or by customers
(Cast Steel, Alloy Steel, Stainless Steel, Special Steel)
(keywords:control valve,pneumatic control valve,adjust valve, Cage control valve,single disc,bellows seal control valve),válvula de controle,reguleringsventil,Pressure Control & Relief,Sonderarmaturen,Emniyet Ventilleri,ODVADĚČE KONDENZÁTU,Regelventile,Regelarmaturen,Regulační ventily,regulačnou kuželkou.reguleerventiil.Steam Conditioning Valves.Pneumatic valves Pneumatic cylinders Air Preparation (FRL) Air bellows álvulas de Controle Válvulas de ControlVentil vlnovcový regulační,Ventil vlnovcový regulační rychločinný.iso pad ball valve.2pcs of ball valve.3pcs of ball valve. floating ball valve. pav valve .pav floating ball valve.pav ball valve.split ball valve.