PRODUCTS LIST

Home > Product Show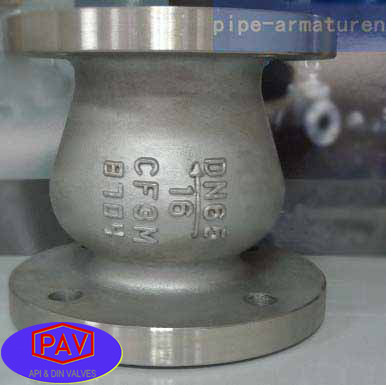 Axial check valve
Product Numbers: Fig:CV407
Product introduction: Check or non-return valve,Critical compressor,pump protection Severe duty,Low pressure drop(Nozzle check valve,silent check valve)are suitable for water.Used to prevent backflow within a pipeline.Non slam check valve.NOZZLE CHECK VALVE.axial flow check valve.NON-SLAM CHECK VALVE.Válvula Check.Клапи възвратни,Axial Disc Check Valve.Nozzel check valve,non slam check valve.

Main product features(axial flow check valve,Nozzel check valve,non slam check valve)
Silent Check Valve is a spring-assisted,center guided,in-line,flanged check valve that provides reliable,low maintenance service for a wide range of fluids and pressure-temperature combinations. The valve consists of a body,seat,spring,disc with stem and guide bushing. Some valves have body or gasket seals. this check valve has the advantage of minimum pressure loss with silent, non-slam operation.
Axial flow(silent check valve)
Streamlined flow path through full-port expanded body avoids turbulence and prevents erosion and vibration. Process downtime and maintenance costs are eliminated.
Low pressure drop
The full opening flow passage and high-pressure recovery of the venturi-shaped body result in very low pressure loss: reduced operating cost of pumps and compressors.
Easy opening
The low static pressure in the throat area is applied behind the disc and creates a pressure differential over the disc, resulting in easy opening.
Stability
Extremely stable during operation. The axial check valve responds smoothly to changes in flow and remains stable whit it is supposed to be.
Non-slam operation
The spring-assisted design ensures ultra-fast closing without backflow and pressure surges, in critical applications such as multi-pump systems.
Tight shut-off
Tight shut-off is obtained by means of metal-to-metal sealing. This sealing is not affected by erosive flow. Maintenance free
Internal construction is based on the application of sound basic mechanical engineering principles. Consequently, the axial check valve does not require any maintenance.
Special features
Custom-designed valve to meet the clients specific process conditions.
Fire-safe, cryogenic and sub-sea design.
Material
GP240GH (1.0619/GS-C25),G-X6CrNi18.9(1.4308),G-X6CrNiMo18.10 (1.4408) ,
WCB,LCB,CF8,CF3,CF8M,CF3M,CF8C
Standard
Nominal diameter: DN25-DN600;NPS1-NPS24
Nominal pressure: PN16-PN100,150LB-900LB
Design&manufacture standard conforms to ASME B16.34
Face to face standard conforms to MFG or customers
Connection Ends :ASME B16.5,DIN 2501
Test conforms to EN 12266 /DIN 3230/API 598
swing check valve,axial check valve,lift check valve,Nozzle check valve,check valve,Non-Return Valve,Non return Valve, Rückschlagklappe,Rückschlagventilaxial,hebenRückschlagventil,Düsentest,Rückschlagventil,Rückschlagventil,Rückschlagventil,
Rückschlagklappe,Rückschlagventil,axial,heben,Rückschlagventil,Düsentest,Rückschlagventil,Rückschlagventil,Rückschlagventil,terugslagklep,terugslagklep axiale,til terugslagklep,Nozzle terugslagklep,terugslagklep,terugslagklep,terugslagklep,swing,sjekk,ventil,tilbakeslagsventil aksiale,løfte tilbakeslagsventil,dysekontrollventil,tilbakeslagsventil,Nontilbakeslagsventil,tilbakeslagsventil,swing,backventil,backventil,axiell,lyfta,backventil,ventilmunstycken,
backventil,Backventil,backventil,Check valves,or Non Return valves are used to prevent reverse flow in pipelines.They are critical in that they prevent media flowing in wrong direction,thus protecting equipment such as pumps,meters etc from damage.In addition,check valves can be used to prevent and minimise sudden shocks in the system,which can lead to major problems such as water hammer and overpressure.válvula de retenção,verificar comprador válvula,Axial supapă de reţinere,tăcut supap,dereţinere,Spätný ventil,Axial tilbakeslagsventil,Ball Check Valve Details,Клапи възвратни,stainless steel check valve,backflow,preventing,valve,Rückflußverhinderer Ventil,Non slam check valve,duckbill checkvalve,Slipon,Duck,Bill,Check,Valves,Rückschlagarmaturen,Axial Flow Check Valve,AXIAL CHECK VALVE,check valve for backflow prevention,NOZZLE CHECK VALVE,Vacuum Breakers valves,Válvulas de Retención,Cast Stainless Steel Lift Check Valve.NON SLAM Check,صمام الاختيار,Válvula Retenção,Non Slam Check Valves,Triple-Duty Valve,Eccentric Plug Valve,Hydraulic Balancing Valve,밸브를 확인,Ventil spätný.ZPÉTNÝ VENTIL.Stabilisateur d'écoulementKuglekontraventiler.Multinozzle Valve.silent globe check valve.Slangventiler.axial flow check valveVálvula Retenção NON-SLAM CHECK VALVE VÁLVULA DE RETENÇÃO Kuglekontraventiler Check valve, Non return valve, Pump foot valve, Vàlvula de retención - Lasso Technik AG Válvula Check Boiler Blowdown Valves,API 6A Products.Christmas Tree.Gate Valves.Globe Valve.Check Valves.Ball Valves.Strainer Valve.Butterfly Valves.Plug ValvesPressure Seal Valve.Cast Iron Valve.Cryogenic Valve.Various Valves.Flanges.Fittings.PipesКлапи възвратниВентили ъглови за ниво,Non Slam Check Valve,Axial Disc Check Valve,FULL OPEN STYLE SILENT CHECK VALVE The silent check valve is applied on lift pipe or fluid pipe with pressure. The valve gate, with restoring force, will be closed at suitable speed when pump is shut down to separate the collision and noise between the inertia fluid (positive pressure) and the back flow (negative pressure) caused by power off. The silent check valve plays an important role on piping, especially applied on the outlet of the pump. The silent check valve applied on the outlet of the pump should be selected carefully, and it must be able to resist the highest pressure, the largest water hammer effect and the biggest fluid impact. If the silent check valve is not good enough, when silent check valve is damaged, it will cause the fluid flowing back and losing pressure or, more serious, the damaged parts will fall on the blades and damage the pump seriously and, hence, loses more money. To avoid the defects mentioned above, our company manufacture a more practical and economical model, called ?FULL OPEN STYLE SILENT CHECK VALVE? Features: - The design of the valve is full flow lift type and water flow does not directly push the valve gate. Hence, the valve can work for a long time and have huge flow rate. - The design of plug is hang type and automatically locating. It can adjust the close position of the plug no matter high or low pressure. - The design of sealing is upside-down of ?U? and it is suitable for high and/or low pressure condition. And the tightness of the valve gate is best. - The design of plug is semi-round and can resist higher pressure. When the pressure is high, plug and seat work together to prevent the sealing from being pushed by the high pressure to lengthen the longevity of sealing.