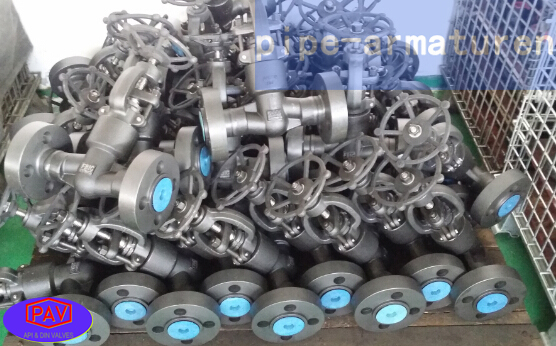 Structure
Pressure seal bonnet(PSB). OS&Y gate valve. globe valve. full & reduced port.
Standard
Design and Manufacture: API 602/BS 5352
Face to face(end to end): MFG or Customers
Socket welded ends:ASME B16.11(SW)
Flanged:ASME B16.5 /DIN2501 /EN1092 etc.
Thread ends:ASME B1.20.1(NPT)
Test and inspection: API602
Material
ASTM A105N,ASTM A350 LF2,ASTM A182 F11,F22,F304,F304L,F316,F316L,F321,LF1,LF2,F51,F53,F44
(API valves,ball valve,floating ball valve,steel ball valve,short ball valve,Compact Ball Valve,1 pc ball valves,one piece ball valve,intetral ball valve,italian type ball valve,short ball valve.API válvulas,válvulas de esfera, válvula de esfera flutuante, aço válvula de esfera, válvula de bola curto, válvula de esfera Compact,1 válvulas de esfera de PC, uma válvula de esfera pedaço.API falfiau, pêl falf,falf pêl fel y bo'r angen, dur pêl falf, falf pêl byr, Falf Ball Compact, 1 falfiau pc bêl, un darn falf bêl)(API βαλβίδες, βαλβίδα μπάλα, πλωτά βαλβίδα μπάλα, μπάλα χάλυβα βαλβίδα, βαλβίδα μικρή μπάλα, Συμπαγής βαλβίδα μπάλα, μπάλα βαλβίδες 1 τεμάχιο, μία βαλβίδα μπάλα κομμάτι) (API арматуры, шаравых кранаў, які плавае шаравой кран, сталёвы шаравой кран,шаравой кран кароткі, кампактны шаравой клапан, 1 шт клапанаў мяча, адзін кавалак шаравой кран) API (밸브, 볼 밸브, 부동 볼 밸브, 철강 볼 밸브, 짧은 볼 밸브, 콤팩트 볼 밸브, 1 개의 PC의 볼 밸브, 원피스 볼 밸브)(API вентили, топчести вентили, лебдејќи топчести вентили, челик топчести вентили, краток топчести вентили, Компактен топчести вентили,1 компјутер топчести вентили, едно парче топчести вентили.API szelepek, golyóscsap, gömbcsap úszó-,acél-golyóscsap,gömbcsap rövid,kompakt gömbcsap,1 db golyós szelep,1 db gömbcsap),válvula de esfera flutuante,kogelkraan distributeur,korte kogelkraan,o bucata de robinet cu bilă,one piece of ball valve,scurt ventil cu bilă,Bočný vstup guľový kohút,3 tak guľový kohút,Sanitary Valves,МЕЖДУФЛАНЦОВ СФЕРИЧЕН КРАН,miscellaneous valves,Kugelhähne,Floating Kugelhähne,DIN-Kugelhahn in Zwischenflanschausfrung(Wafer Type)Monobloc ball valves,Compact flange ball valves,Bola flotante,paso reducido,Kulový kohout přírubový,Austenitic stainless steels ball valves,Válvulas de Bola,Single Way Ball valve,KULOVÉ KOHOUTY,Válvula Esfera,Válvula Esfera Flangeada,Econômica,Válvula Esfera Flangeada,Econômica,Válvula Flangeada,Kogelafsluiters,볼 밸브.บอลวาล์ว1PC Flanged End Ball Valve Wafer Type.кульовий клапан.Lodveida vārsti.bola katupválvula de esferaFlanschkugelhahn.Kugleventiler.Kulové kohouty.kulový kohout bezpřírubový.Válvula com acesso rápido VÁLVULA ESFERA.Unibody Ball Valves,VÁLVULA CON ACTUADOR;VÁLVULA COMPUERTA; VÁLVULA MACHO; VÁLVULA MARIPOSA; VÁLVULA AGUJA; VÁLVULA OLA;VÁLVULAGLOBO,Flanges DN25 ISO-KF (high vacuum flangetype)Supplier&Stockist of Stainless Steel Sus 201/304/316sklendėssluice gate valve Skydespjæld.pinned Sluice Gate Valve Emergency Shut Down Valve Válvula de cuchilla,PN16 Ci & Di Resilient Seal Gate Valves PN16 Metal Seat & BS5150 Gate Valves Threaded Resilient Seal Gate Valves 16 Knife Gate Valves Class 150-600 Api Gate ValveSteam Traps.Cast Steel Basket Type Strainer.Cast Steel Flanged Plug Valves.Cast Steel Butterfly ValvesCast Steel Globe Valves.Cast Steel Wafer Check Valves.Cast Steel Check ValvesCast Steel Floating Ball Valves.Cast Steel Gate Valves.Stainless Steel StrainerStainless Steel Butterfly Valves.Stainless Steel Globe Valves.Stainless Steel Wafer Check ValvesStainless Steel Check Valves.Stainless Steel Floating Ball Valves.Stainless Steel Gate ValvesForged Steel Globe Valves.Forged Steel Check Valves.Forged Steel Trunnion Mounted Ball ValvesForged Steel Floating Ball Valves.Forged Steel Gate Valves.Ductile/Cast Iron StrainerDuctile/Cast Iron Butterfly Valves.Ductile/Cast Iron Globe Valves.Ductile/Cast Iron Wafer Check ValvesDuctile/Cast Iron Check Valves.Ductile/Cast Iron Gate Valves. From rotary valves, slide gates, butterflyvalves, bulks distributors, double shuttle valves to segment valves.