PRODUCTS LIST

Home > Product Show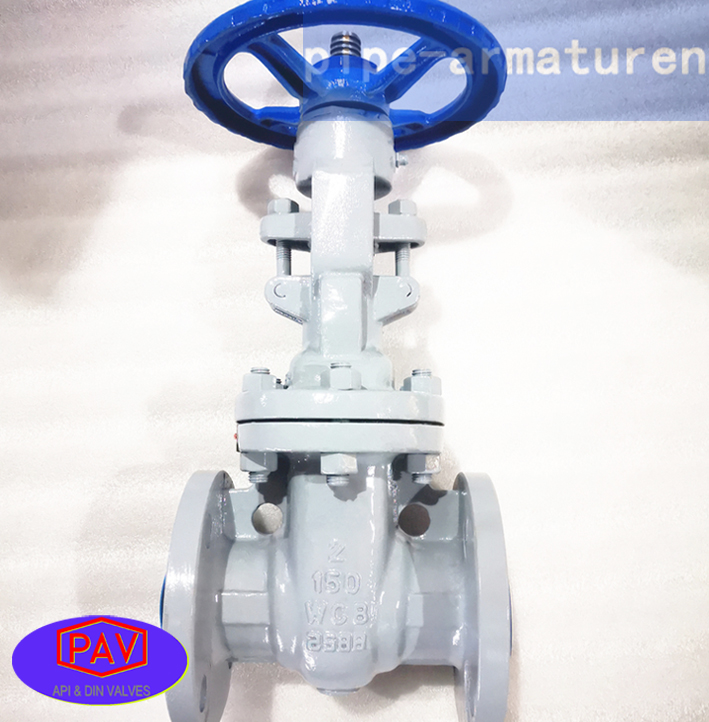 API600 gate valve
Product Numbers: Fig:GV201
Product introduction: Bolted Bonnet(BB),Welded bonnet(WB),Pressure seal bonnet(PSB),Rising stem or Non-rising Stem,Outside Screw and Yoke( OS&Y;Metallic or soft seating surfaces,Wedged gate,Parallel gate;Integral,Threaded or welded seat ring.OS&Y,Rising Stem,Flexible Solid Wedge.Welded-in or Threaded Seat Ring,water seal gate valve.ANSI series Gate Valves.Βάνες σύρτη.Šoupátka,Absperrschieber,comhla geata.Yoke gate valve.Flexible Taper Wedge.Sürgülü Vana.VÁLVULA GAVETA,Gate valve manufacturers and distributors,Valvole a Saracinesca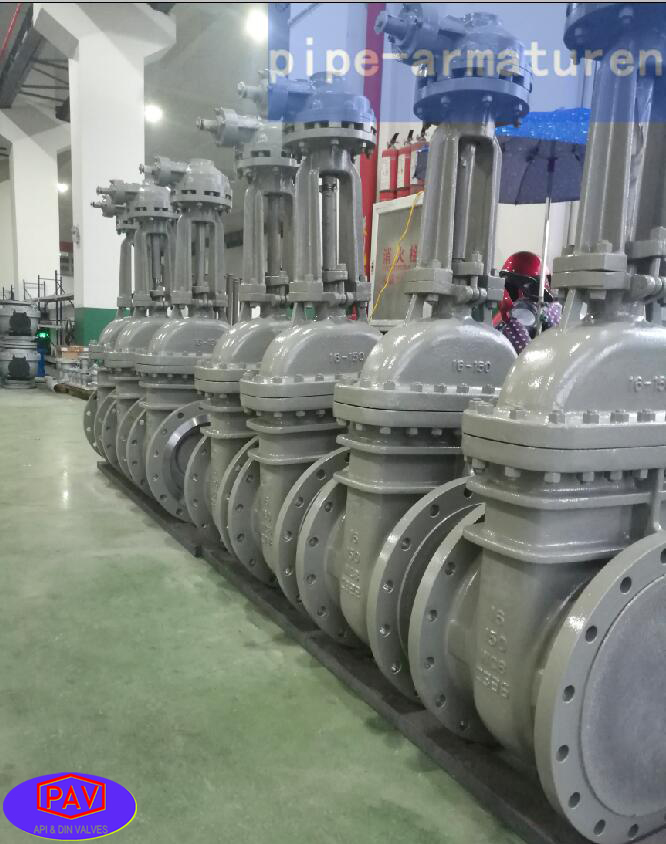 |
Design of Disc
Gate valves with NPS >2 are of flexible wedge gate; pav valve.pipe armaturen.
Gate valves with NPS <2 are of solid wedge gate.
Body and Bonnet Connection
The body and bonnet of Class 150~Class 900 gate valves are usually bolted bonnet design. And Class 1500~Class 2500 gate valves are usually of pressurized seal design.
Gasket of Cover Flange
Carbon steel or stainless steel+ flexible graphite combined gasket is used for Class 150 gate valve;Stainless steel+ flexible graphite wounded gasket is used for Class 300 gate valve; Stainless steel+ flexible graphite wounded gasket is used for Class 600 gate valve, and ring joint gasket is also optional for Class 600 gate valve; Ring Joint gasket is used for Class 900 gate valve; Pressurized seal design is used for Class 1500~Class 2500 gate valve.
Packing Seal
Molded flexible graphite is used for packing material .PTFE or combined packing material can be also used if being requested by the customers .The internal surface of the stuffing box, of which area is contacted with the packing, is of excellent finish (Ra 3.2um).The stem surface, contacting with the packing, should be rolled and pressed after being precisely machined, so as to reach to the high finish and compactness (Ra 0.8um) and ensure the reliable tightness of the stem area.Belleville Spring Loaded Packing Impacting System
If being requested by the customer ,the Belleville spring loaded packing impacting system can be adopted for enhancing the durability and reliability of the packing seal.water seal gate valve.Spiral wound gaskets
Back Seating Design
PAV valve. our gate valves have the back seating design. In most cases, the carbon steel gate valve is fitted with a renewable back seat. For stainless steel gate valve, the back seat is machined directly in the bonnet or is machined after welding .When the gate valve is at fully open position, the sealing of the back seat can be very reliable .However, as per the requirement of API600, it is not advisable to add or change packing by the mean of back seating when the valve is pressure containing.
Seat
For carbon steel gate valve, the seat is usually forged steel. The sealing surface of the seat is spray welded with hard alloy specified by the customer. Welded seat is used for NPS<10 gate valves, and welded on seat can be also optional if being requested by the customer. Welded on seat is used for NPS<10 carbon steel gate valves .for Stainless steel gate valve, integral seat is usually adopted, or to weld hard alloy directly integrally. Threaded or welded on seat is also optional for stainless steel gate valve if being requested by the customer.
Stem Design
The stem is of integral forged design .The minimum diameter of the stem shall per the standard requirement .The connection of the stem and disc is T type .The strength of the connecting area is bigger than that of the T threaded part of the stem .
Stem Nut
Usually, the stem nut is made of ASTM A439 D2.It is also can be made of copper alloy if being requested by the customer .For large sized gate valves (NPS 10 for Class 150, NPS 8 for Class 300, NPS 6 for Class 600,NPS 5 for Class 900),rolling bearing is fitted at the two sides of the stem nut in order to minimize the open and close torque of the gate valve.
Special Gate Valve
Besides the common gate valves ,We can also makes cryogenic gate valve, Jacketed Gate Valve, Bellow Sealed Gate Valve, Extension Stem Gate Valve for underground application, Flat Gate Valve, etc.Water seal gate valve.By-Pass and Drain Connections,Indicator and Locking Devices.
Operation type
Handwheel,Gear, Electric actuator,Pneumatic actuator,Bare stem
Standard
Design and Manufacture: API 6D,API600,API603,ISO10434,BS1414 or ASME B16.34
Inspection and Test: API 598/API 6D
End flange dimension: ASME B16.5,ASME B16.47(API 605 ,MSS SP44)
NFE 29203 flanges
Butt ends dimension: ASME B16.25(BW)
Face to face,end to end: ASME B16.10
Pressure-temperature ratings: ASME B16.34
NACE: NACE 0175
Material
ASTM A216 WCB WCC;ASTM A217 WC1 WC6 WC9;ASTM A351 CF8,A351 CF8M,
A351 CF3,A351 CF3M,A351 CN7M;.ASTM A352 LC1 LCB LCC LC3 or by customers
(Cast Steel, Alloy Steel, Stainless Steel, Special Steel)13CrMo 44 Vaustenite; duplex stainless steel; ferrite; stainless steel;steel castings)

valves,gate valve,valve,API gate valve,wedge gate valve,Sluice valve.Brake valve,Discharge gate,Conduit Gate
Valve,gate valve API 600,BS1414,ASME valves,gate valve API 6D,Rising Stem Gate Valve,bolt bonnet gate valve,kleppe,sluisklep,klep,API sluisklep,wig sluisklep,sluis valve.Brake klep,Discharge hek,pyp Gate Valve,he
k klep API 600,BS 1414,ASME kleppe,sluisklep API 6D,stygende Stem Gateklep,كلمات: والصمامات، وبوابة صمام، صمام، API صمام البوابة، صمام بوابة إسفين، سد صمام valve.Brake، باب إبراء الذمة، والقناة صمام بوابة، بوابة صمام API 600، BS 1414، والصمامات ASME، بوابة صمام API 6D، ارتفاع بوابة الجذعية صمام)(valves, gate balbula,balbula,balbula ng API gate,balbula ng magsinsel gate,umagos valve.Brake balbula,naglalabas gate, padaluyan Gate balbula,gate balbula API 600,BS 1414,ASME valves,gate balbula API 6D,Tumataas stem Gatebalbula,מילות מפתח: שסתומים, שסתום השער,שסתום,ה-API השער שסתום,שסתום השער טריז, שסתום valve.Brake הסכר, פרוק את השער,Conduit שער Valve,שסתום השער API 600, BS 1414, ASME שסתומים, שסתום השער API בקר 6d,שער גזע עולה Valve,valvole, saracinesca, valvola,API saracinesca,saracinesca cuneo,chiusa la valvola valve.Brake,scarico cancello,Conduit Porta di Valve,saracinesca API 600, BS 1414,ASME valvole,saracinesca API 6D,Gate Stem Levante Valve valve.Brake API 600, 1414,ASME 6D,.ventily,šoupátka,ventily,API šoupátko,klínové šoupátko,Zdymadlo valve.Brake ventil,vybíjení brána,Conduit šoupátko,šoupátkový API 600,BS 1414,ASME ventily,šoupátka API 6D,
stoupající vřeteno Gate ventil,Ventile,Schieber,Ventile, Schieber-API, بوابة صمام,Keil Absperrschieber,Schleuse valve.Brake Ventil,Entleerungsschieberelemente,Conduit Absperrschieber,Absperrschieber API 600,BS 1414,ASME-Ventile,Absperrschieber API 6D,steigende Spindel-Tor Valve),Gate Valves,Cast Iron,Stainless Steel & Carbon Steel,Designs include Wedge Gate,Split Wedge,Parallel Slide,Knife Gate and Conduit Gate,GATE VALVE.API-600,Cast steel gate valve to API 600(ISO 10434)or API 6D,API 600/BS 1414/ISO 10434u Bolt
ed Bonnet,Bolted Bonnet Steel Gate Valves for Petroleum and Natural Gas Industries,API600 WEDGE GATE VALVES,API600-Wedge-Gate-Valves,double disc gate valve,válvula de gaveta,portão comprador válvula,gate vana,API 600 bolted bonnet steel gate valves
for petroleum and natural gas,Awwa C515 Gate Valve,gate ventil distributer,gate ventil proizvajalca,schuifafsluiter,gate valve importer,API 600 schuifafsluiter,vanası,clapetă,API WEDGE GATE VALVE,API PANĂ GATE VALVE,dublu disc poarta ventil,bare stem gate valve,clapeta de cumpărător,uzatváracie šupátko,Gate Vana,Çelik Döküm Gate Vana,Dövme Çelik Gate Vana,Bronz Döküm Gate Vana,gate ventil,AWWA C500 Solid Wedge
and double Rotation Disc Gate Valves,Gate Valves-AWWA C-509/C-515,drain valve,Schieber,Absperrschieber,Compuerta de acero fundido,ASME-Schieber nach API602 (2"auch nach API600)mit Flanschen(auch mit vollen
Durchgang),ASME-Keilrundschieber nach API600 mit
Flanschen,ROBINETS À SOUPAPE,aqueduct valve,Zasuwyklinowe,Pleištinės
sklendės,Keilflachschieber,Absperrschieber,Valves for Water Treatment Plant,spiral wound gasket,bolted
bonnet
valves,Cast
steel bolted gate valves,solid
wedge
gate valve,Valvulas,Válvulas de Compuerta,Pipeline PetroleumChina awwa gate valves Manufacturer and awwa gate valves
Supplier
Ворота
клапан
,robinet-van
ne,Cast
Steel
Gate Valve,Cast Stainless Steel Gate Valve,Forged Steel Gate
Valve,Forged Stainless
Steel Gate Valve,válvula de
porta,Van cổng,
Válvula G
aveta,
Válvula Gaveta (ANSI)Sc
huifafsluiters en Terugslagkleppen volgens DIN normen Schuifafsluiters,
klepafsluite
rs en terugs
lagkleppen A
NSI,
게이트 밸브,بواب
ة صمام,
Ventil uza
tvárací,วาล์วป
ระตู,
Zasuwy klinowe.
Ķīļveida aizbīdņi.
värava ventiil.
Gerbang katup.
שסתום
ש
ערbaryè
soupap,válvula de gaveta,
Vanne de sectionnement à opercule.lever Blowdown Valve,válvulas esclusa.Válvulas.Válvulas de compuerta.
Βά
νες σύρτη.
Šoupátka.
Šoupátka se stoupajícím vřetenem.Šoupátka.Absperrschieber,Zasuwa klinowa staliwna.Kilslidventiler.Absperrschieber.ANSI-Schieber.Van cửa.Gate Vana
Válvulas Esclusa Válvulas Globo Válvulas Esféricas Válvulas de Retención Llaves de Paso Filtros YVálvula Gaveta de Aço Fundido Conexão Flangeada pleištinės sklendės comhla geata Yoke gate valve Flexible Taper Wedge.
Globo Bolted Bonnet Diámetros Oxy
gen Pipeline Valves G
ate Valves
.
Sürgülü Vana.VÁLVULA GAVETA Tank Bottom Valves VÁLVULAS E CONEXÕES.
Gate Valve Ansi 150 Toyo,Gate Valve Ansi 150,Gate Valve Ansi 300

Toyo,CENTRAL VALVE 021-420
8291 Valve

Indonesia,Jual Valve
.API603 gate valve
Cast Steel Gate Valvescast Steel Gate Valve,
ŠoupátkoPAM GateWay Resilient Seated Gate Valve.
шибъриASTM A494/494M CW6MC, Alloy 625 Casting
Gate valve
manufacturers and distributors,
Valvole a Saracinesca,
O
.
S
.&Y. Resilient Wedge Gate
Valve
, Flanged Ends sluice gate vavle.
Subsea ValveSlurry gate valves - AGRICO Yükselen Milli Sürgülü Vanalar Kısa Tip Yangın

Hidrantı
Ductile Iron Pipes & Pipe Fittings | Hubless Pipes & Pipe Fittings | Copper Pipes & Pipe Fittings | Stainless Pipes & Pipe Fittings | Black & Galvanised Steel Pipes | Ductile Iron Gate Valve, Check Valve, Globe Valve, Swing Check Valve, Stop Valve, Y-Pattern Strainer and Butterfly Valve | Gunmetal Ball Valve, Gate Valve, Check Valve, Stop Cock, Mini Ball Valve, Y-Pattern Strainer | Brass Compression Ends Pipe

Fittings | Rubber Expansion Joint | Flange Adaptor & Coupling Collar | Malleable Iron Pipe Fittings | Fire Hydrant | Telecom / Starhub Cover & Frame, Ductile Iron / Cast Iron / Heavy Duty / Medium Duty Covers-Frame | Grease Trap / Street Gully | Reinforced Concrete Chamber Ring, Concrete Pipes, Reinforced Concrete Septic Tank | Galvanized

Pedestrain Grating | Aluminium Rung material range: 317L/A744 GR. CG3M, 317/A744 GR. CG8M, 347/A744 GR. CF8C, Alloy 20/A744 GR.

CN7M, CD4MCU/A744, Ferrallium 255, Duplex 2205 CD3MN, Monel/A494 GR. M35-1, Nickel/A494 GR. CZ100,

Inconel/A494 GR. CY40-CL 1 & 2, Incoloy 800/A351 CTl 5C, Hastelloy B/A494 GR. N12MV, Hastelloy C/A494 GR. CW12MW, Hastelloy C276, Inconel 625, Titanium/B367 -69 GR. C3, Zirconium/B752 GR. 702C & 705C, Avesta 6moly 254 SMO/A351 CK3MCUN.
Van kitz, gioăng không amiang, dây tết chèn, gioăng kim loại,
Resilient Seated Gate Valves (RSV),
Ductile Iron Sluice Valve(DRV)
Double Regulating Valves(DRV)
ISOLATION VALVE
Modular valves
petroleum equipment
Monoblock ball valve